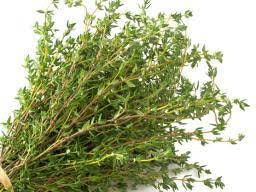 Whole Fruit Fused Agrumato Method
100% ORGANIC
Made from fresh Thyme crushed with ultra fresh, certified Organic early harvest Chetoui olives using 100% mechanical cold extraction methods.  This fused herb olive oil embodies the complex character of  Fresh Thyme.  It is both aromatic and floral.  
Use it anywhere fresh or dried Thyme might be used.  Perfect with Pork, Poultry & Lamb.  Spectacular drizzled over Sauteed, Grilled, or Roasted Vegetables.
  
Amazing with Eggs or Fish.  Great in Soups and Stews or in any dishes with Eggplant, Peppers, or Tomatoes.
Perfect Pairings:
+ Pomegranate DBV
+ Apricot WBV
+ Oregano WBV
+ Sicilian Lemon WBV
+ Organic Garlic EVOO