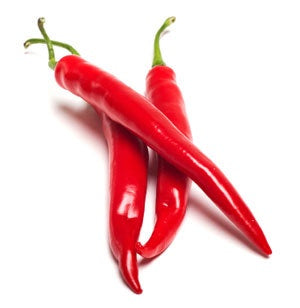 Cayenne Chile Pepper Fused EVOO
 Whole Fruit Fused Agrumato Method
100% ORGANIC
This Handcrafted Artisinal EVOO is made in Tunisia by crushing Twelve Pounds (12lbs) of fresh, whole, Organic, ripe Cayenne Chiles with 100% Organic Olives (for every gallon of EVOO).  The oil & fresh chiles are fused for hours before decanting.  Floral, Fruity and Packed with tons of flavor, not just heat.  
Any Chile lover will be in Heaven with this oil.
EXTREMELY HOT, a little dab will do yah!
Great with Chicken, Seafood, Lamb or Vegetables.  Perfect in CousCous, Salsas, & Relishes.  Will spice up any BBQ recipe. 
Perfect Pairings:
+ Jalapeno WBV
+ Serrano Honey Vinegar
+ Dark Chocolate DBV
+ Maple DBV
+ Honey Ginger WBV

+ Mango WBV