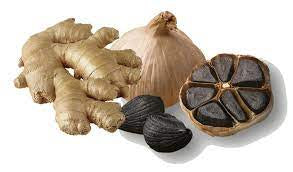 Ginger & Black Garlic Infused EVOO
Our Ginger & Black Garlic Infused Extra Virgin Olive Oil is out of this world.  Earthy, Savory & Sweet with a complex umami flavor that adds tons of flavor. 
Perfect in Thai Dishes (soups & curry pastes), in a Stir Fry, or in any type of Asian dishes. Also makes a great Marinade for your favorite Meat, Fish, or Poultry before Roasting, Sauteing, or Grilling.  
Black Garlic has been around for a long time.  It is regular garlic that has been aged & fermented.  A culinary staple for chefs and epicureans alike.
 Perfect Pairings:
+ Honey Ginger WBV
+ Pineapple WBV
+ Pomegranate Quince WBV
+ Suyo Cucumber WBV
+ Umeboshi Plum WBV