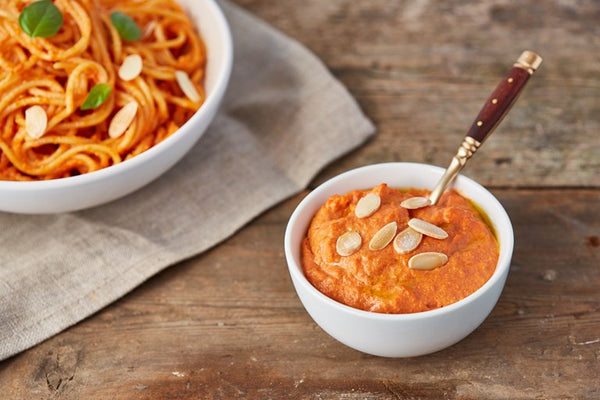 Spicy Calabrian Pesto Infused EVOO
Take a sensory trip to sunbaked Coastal Reggio Calabria in southwest Italy.  Our newest infused EVOO artfully combines spicy Calabrian Chili Peppers, sweet Basil, pungent purple heirloom Garlic, and piquant Pecorino Romano & Parmigiano-Reggiano cheeses into a flavor packed savory Extra Virgin Olive Oil.
This EVOO works perfectly in any Pasta dish or in Risotto.  Use it to Roast Vegetables or Potatoes.  Try it to marinate Poultry or for Grilled Meats or Seafood.
Use as a Dipping Oil for Bread, for Focaccia or Garlic Bread.  Great in Grain Bowls, with Eggs or in an Aioli.
Perfect Pairings:
+ Traditional 18YR DBV

+ Neapolitan Herb DBV

+ Jalapeno WBV
+ Sicilian Lemon WBV
+ Serrano Honey Vinegar