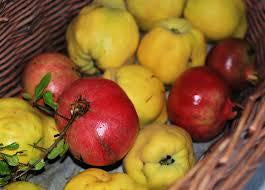 Pomegranate Quince White Balsamic Vinegar
This Balsamic owes its tart, crisp flavor to juicy California Grenada Pomegranates & floral winter Quince.  Use in Dressings, Marinades/Glazes for Pork or Chicken.  Perfect in Sparkling Water, Mixed Drinks, over Fresh Fruit or paired with Salty, Aged Cheeses.
VSOP's Aged White Balsamic Vinegars are made in Modena, Italy using Ultra Premium grape must from Trebbiano & Lambrusco grapes.  The must is not caramelized & the vinegar is aged in New wood barrels (which have not been fired on the inside) using the age old Solera Method.  The result is a bit more acidic with a crisp, clean taste & a lighter color. 
 
Perfect Pairings:
+ Blood Orange EVOO
+ Mani Orange EVOO
+ Persian Lime EVOO
+ Greek Lemon EVOO
+ Ginger & Black Garlic EVOO
+ Any Single Varietal EVOO