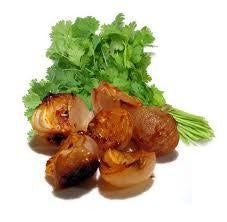 Cilantro & Roasted Onion Infused EVOO
Made with the perfectly blended flavors of roasted sweet Cippolini Onions and the tangy citrus overtones of Fresh Cilantro.  
Works wonderfully with Sauteed Vegetables, in Thai Dishes (soups & curry pastes), or in a Stir Fry.  
Marinate Tomatoes before Roasting or Grilling for a Roasted Tomato Salsa.  
Also makes a great Marinade for your favorite Meat, Fish, or Poultry.  
Perfect Pairings:
+ Honey Ginger WBV
+ Jalapeno WBV
+ Lemongrass Mint WBV
+ Peach WBV
+ Traditional 18YR DBV