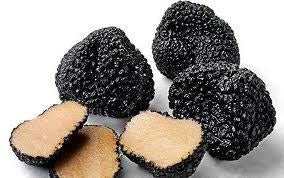 ALL NATURAL
No chemicals or extracts are used in its production
Black Truffles from the Umbria region of Italy are harvested in late fall/early winter and then steeped in Ultra Premium Extra Virgin Olive Oil creating a distinctive earthy, complex  & robust flavor.
Containing the strongest of all truffles, Black Truffle Oil is more pungent than its White counterpart & has an intensely flavorful aroma. 
Fantastic in Soups, Ragouts, Risotto or Mashed Potatoes.  A perfect choice for Red Meats, Sauces, Casseroles & for Roasting Mushrooms.     
Black Truffle Oil:
Can be used as a finishing oil
Handmade in small artisanal batches
For a special treat, drizzle over popcorn