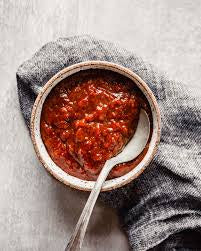 Our Gochujang Infused Extra Virgin Olive Oil is a spicy umami "flavor-fest" combining the rich, savory, fermented flavors inherent to the epic Korean condiment for which its named.
Use it to Marinate Tofu, Chicken, Pork or Beef before cooking.  Brush it on Shrimp or Seafood before Grilling.  Perfect for Stir Fry or Air Frying Vegetables.
Spectacular for Eggs, Soups, Stews, Pasta dishes and more.  Lovely in Dressings or Vinaigrettes or in a Cucumber Salad.   Great in any Asian style Marinade.
 Perfect Pairings:
+ Apricot WBV
+ Coconut WBV
+ Pineapple WBV
+ Lemongrass Mint WBV
+ Cinnamon Pear DBV