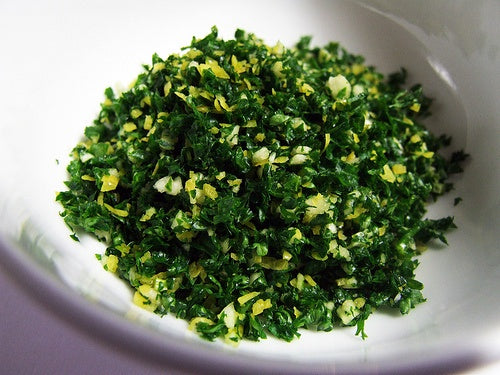 Milanese Gremolata Infused EVOO
Gremolata is a traditional Italian Herb Condiment consisting of Fresh Lemon Zest, Minced Garlic, Flat Leaf Parsley & a hint of Mint.  They are crushed together in a mortar & pestle to release their pungent essential oils.  
Fantastic to Marinate Poultry, Fish or Seafood before Grilling.  Traditionally served with Osso Buco, Veal, or on Lamb Chops.  
Adds a zip of Flavor to Soups, Pork Roasts, or other Slow-Braised Dishes.  Or use it as a finisher for your favorite Grain Salad (Quinoa, Millet, etc).
Perfect Pairings:
+ Gravenstein Apple WBV

+ Jalapeno WBV

+ Lemongrass Mint WBV
+ Sicilian Lemon WBV
+ Serrano Honey Vinegar