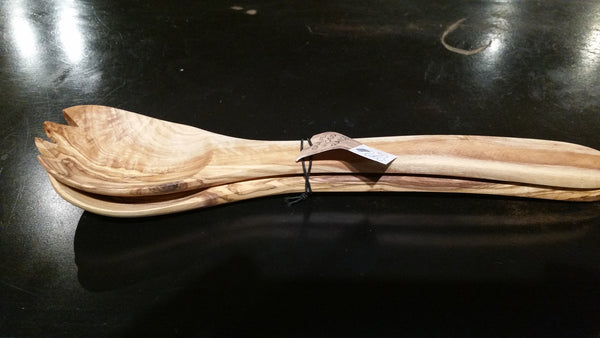 Small Size:  These lovely small olive wood salad servers are perfect for serving a small salad for 2/3 people, when longer servers aren't necessary. The wooden salad servers are also great for serving coleslaw or potato salads.  Length approx 8".
Large Size:  These beautiful, 12″ long, hand-crafted salad servers are made from olive wood from the Med.  Olive wood is ideal for use with food as the natural oil content of olive wood means that it kills bacteria and is therefore more hygienic than other wood or plastic products. All our olive wood products are finished with olive oil and so will not taint any food it is in contact with. These hand-made salad servers are carved out of a single piece of wood so are rare as well as being unique, beautiful and durable.  As a result of these servers being hand-crafted the size may vary slightly with each product, approximate length is 12″.
Handwash only, occassionally coat with olive oil. Properly looked after these olive wood salad servers will last a lifetime.